Lareter Spa has been operating for more than 50 years in the production of PVC Pipes and PVC and Polyethylene Fittings.
Lareter Spa is a Company founded in 1961 that has been operating for more than 50 years in the production of PVC Pipes and PVC and Polyethylene Fittings used for industrial applications, for the construction of pipelines for water supply, drainage and wastewaters and in agriculture for irrigation.
With the aquisition of Plastiform Srl in 2008, Lareter has expanded its know- how on the production of PVC and PE fittings having an entire production department, producing standard fittings or special ones according to drawings of the customers and manufacturing thermoplastic items through a process of both injection moulding and thermoformation.
Thanks to the new skills Lareter is able to provide a complete and customized service to its customers for the realization of any type of project that involves the use of PVC pipes and PVC and polyethylene fittings.
Another important acquisition concerned, in 2014, the company Fimap Technologies srl, a historic Italian company active in the production of PVC, Polyethylene, Steel and Carbon pipes, threaded and slotted, useful for the construction of water wells, boreholes, drainage and environmental investigations. This acquisition represented a further development for Lareter both in terms of knowledge and specific skills, useful for improving the product and the company proposal.
Lareter Spa has also embraced the environmental cause in recent years and has started a process to improve the production cycle of PVC pipes and fittings in order to reduce the environmental impact deriving from its processes. Thanks to the entrepreneurial vision and the regional and European contributions received over the years, Lareter has been able to carry out various energy efficiency projects of its production lines and to reduce consumption, thus drastically reducing its environmental impact, in line with the commitments made by the countries in the different International Protocols on climate change.
The seriousness and reliability of Lareter are futhermore confirmed by the wide Case History of application of its products in different projects, coming from leading Companies both in Italy and foreign countries, working in the field of water treatment, constructions, cooling processes, biogas and drainage.
Lareter is appreciated within the sector, due to its engagement, service and reliability in handling the commitments. Thanks to its stocks in the warehouse, delivery terms of maximum 7 to 10 days from date of order are guaranteed within Europe, visit our contact page to discover more.
Lareter currently distributes its products in more than 50 countries all over the world. Thanks to a well established commercial network and a well organised logistic department, Lareter is able to respond quickly to customer's requests.
LARETER CURRENTLY DISTRIBUTES ITS PRODUCTS IN MORE THAN 50 COUNTRIES ALL OVER THE WORLD.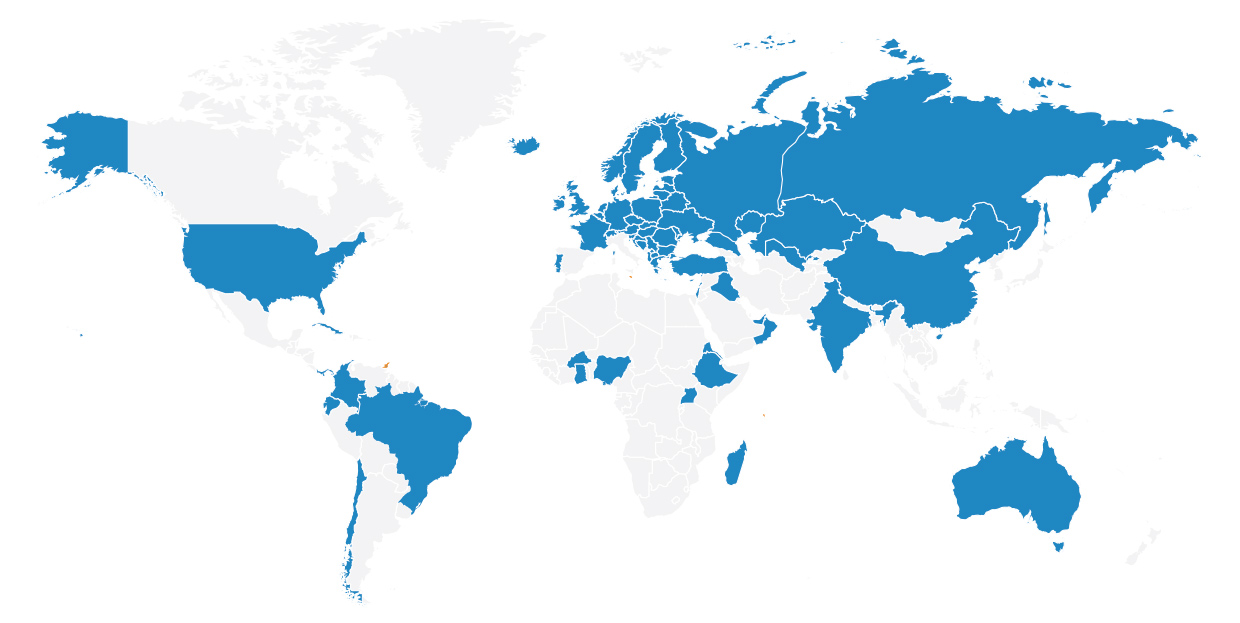 Company Certifications
The quality of Lareter and its products is documented by numerous certifications obtained over the years:



Occupational health and safety management systems